Automatic rinsing-filling- capping machine
Legend Automatic rinsing-filling- capping machine is a completely automatic multi-functional combined machine for washing, filling and capping into a single unit. This machine is equipped with advanced MMI control technology with all necessary automations. Our machine works on gravity filling principle with rotary motion and utilizes hanging neck holding mechanism which makes bottle changeover very convenient.
The machine is equipped with high automation including programmable PLC, frequency convertor & photoelectric elements. Due to this, the filling unit can be easily changed to Low vacuum filling method or Isotonic filling method.  Legend Automatic rinsing-filling- capping machine  is a  Versatile machine to pack mineral water as well as other beverages like fruit juice, squash etc. which are filled at higher temperature by changing some parts.
The automatics rinsing-filling-capping machine consists of the in-feed air conveyor that feed the bottles in to the in-feed rotor. The rotors transfer the bottles to the rinsing rotor. Mechanical rinse valve provides the feature "NO BOTTLE NO RINSING". The bottles are held by neck and there is no distortion of the bottle profile. The bottles remain safe and there is no water damage.
The Automatic rotary Capping machine adopts a unique "PICK & PLACE" mechanism for capping in conjunction with an efficient bottle anti-turn device. The bottle is held at the neck firmly during capping to produce absolutely leak proof results. Shortly before cap pick up, the caps are exposed to UV light for sterilization. Caps are fed into the machine by an automatic cap elevator having an S. S. 304 ground level hopper, which can hold up to three thousand caps. This hopper also has an automatic agitator, which gets activated as soon as the caps stop moving inside the cap hopper. Thus, the elevator is never starved of caps. The elevator positions and feeds caps at the desired rate to the capper block.
Salient features :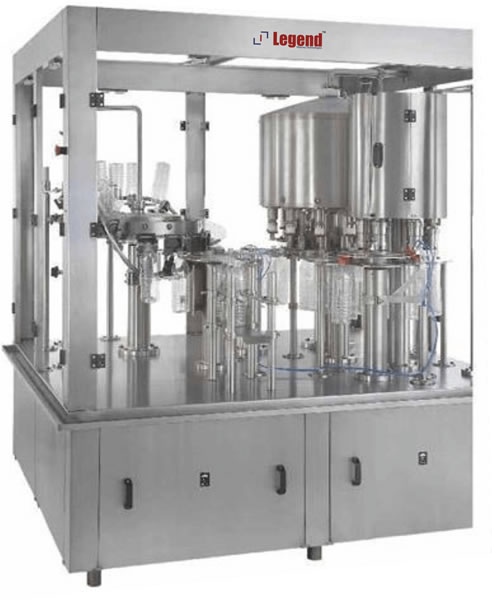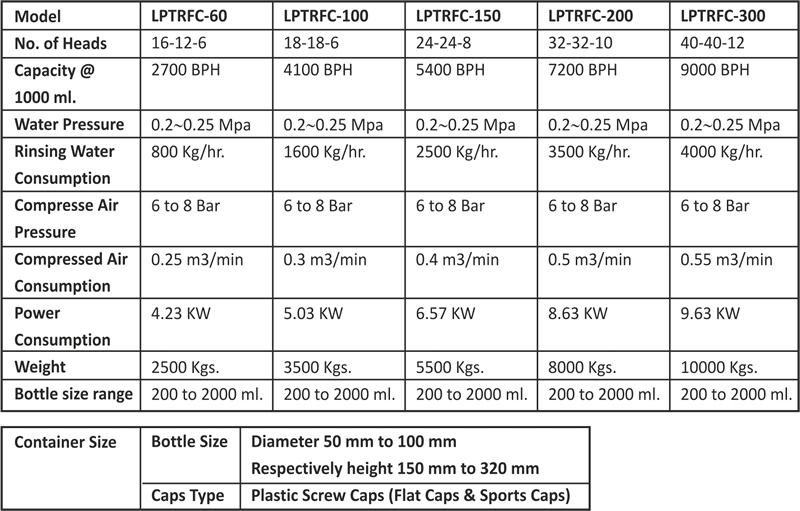 Technical details, specification & designs are subject to change without any prior notice.